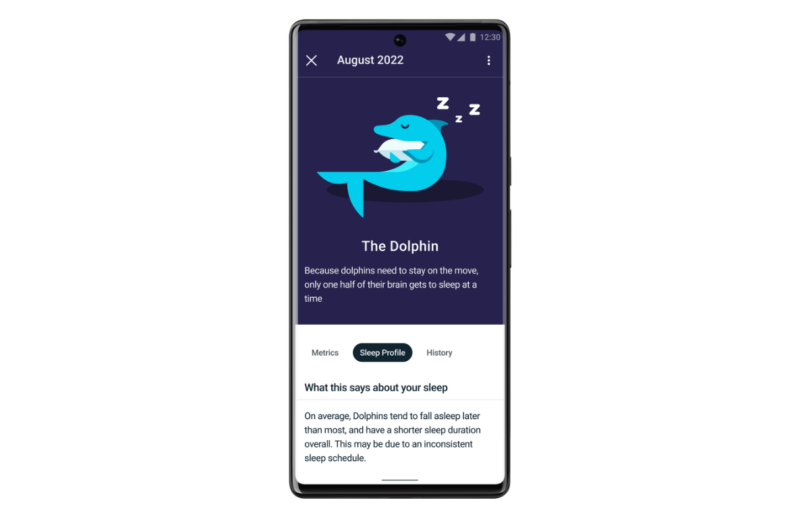 Fitbit heeft vandaag een reeks nieuwe slaapbeoordelingsfuncties aangekondigd voor premium gebruikers. Sleep Profile, dat woensdag via de Fitbit-app wordt gelanceerd, is de nieuwste abonnementsgegevens die Fitbit Premium-leden kunnen gebruiken om hun unieke slaaptype beter te begrijpen en hun sterke en zwakke punten te identificeren.
Met behulp van een maand aan slaapgegevens van ongeveer 60.000 Fitbit-gebruikers, bestudeerde het bedrijf 1.000 unieke slaapkenmerken, en sneed ze uiteindelijk terug tot 10 statistieken. Er waren er al vijf binnen de Fitbit-app, inclusief slaapfasen en duur. Maar de vijf nieuwe categorieën beoordelen de consistentie van bedtijd, het aantal dagen met dutjes, de tijd voor een gezonde slaap, verstoorde slaap en 'stabiliteit', wat het gemiddelde is van het aantal korte, meestal onmerkbare wakes gedurende de nacht. Met deze beoordelingen kunnen gebruikers dagelijkse, wekelijkse en maandelijkse trends in elke categorie zien en zien waar ze zijn (en zouden moeten zijn) binnen het gegevensbereik van andere gebruikers van dezelfde leeftijd en hetzelfde geslacht.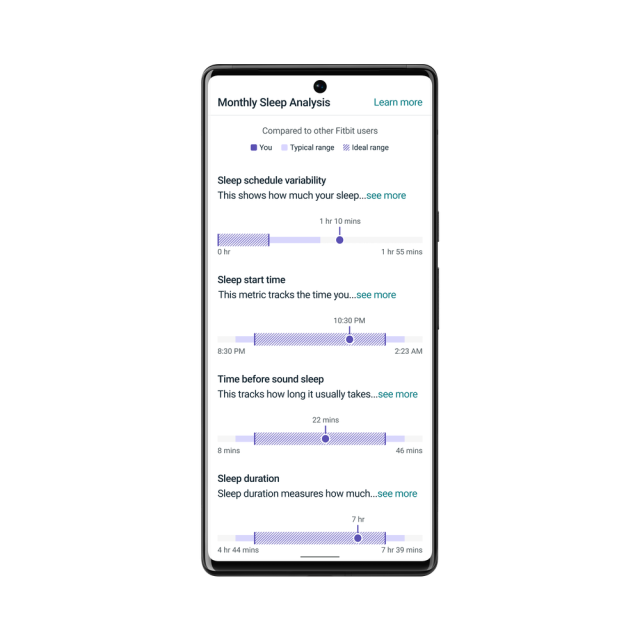 Elke maand krijgen gebruikers ook slaapchronotypes toegewezen op basis van hun gegevens. Elk van de zes soorten is vernoemd naar een dier met een vergelijkbaar slaappatroon: giraf, beer, dolfijn, egel, papegaai en schildpad. Volgens Fitbit zijn deze slaappatroonidentificaties, afgezien van plezier, bedoeld om in de hoofden van mensen te blijven hangen en te reflecteren hoe hun patronen in de loop van de tijd veranderen. Slaaptypes op basis van dieren zijn geen nieuw concept voor slaapwetenschap of zelfs wearables; Samsung introduceerde dit jaar een vergelijkbare functie in de Galaxy Watch 4.
Slaapprofiel vereist dat gebruikers een compatibel Fitbit-apparaat (Sense, Versa 2 of 3, Charge 5, Luxe, Inspire 2) dragen gedurende ten minste 14 dagen in een kalendermaand om beoordelingen te ontvangen. Zoals eerder vermeld, is de functie exclusief voor Fitbit Premium-abonnees die $ 10 per maand betalen voor toegang tot inzichten en een middelgrote bibliotheek met fitness- en mindfulness-inhoud, naast andere betaalde voordelen.